New Jersey Students need 100 hours of training for licensing. This online course bundle is the first step to your professional journey with SofTap.
100 Hour SofTap Training for New Jersey Practitioners:
This Bundle: 20 hours
Books/Practice: 20 hours
Apprenticeship: 60 hours
Step 1: Purchase this bundle with the practice kit (alternatively you may purchase on softaps.com)
Step 2: Complete your online classes with practice exercises and study your manuals
Step 3: Arrange your 60 hour apprenticeship with a certified SofTap Trainer (Please note that this is a separate cost, apprenticeship prices and completion times may vary. We suggest contacting trainers here to find your best option, or contact our headquarters at 925-961-0000)
Step 4: Return to www.softaptraining.com and take the New Jersey State Exam (included in this bundle)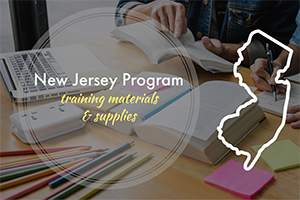 Make sure you create an account and purchase your supplemental materials on the Official SofTap Website.
Your package contains:
A complete needle kit
Practice pads
Practice pigments
Pigment ring, brushes, markers
Bloodborne pathogens book Infection Control for Body Art, by Irene Kennerley
SofTap Student Manual
Bundle Contents
Courses included in this program for New Jersey are:

How to Arrange Your 60 Hour Apprenticeship
After completing your online training, you are required to complete 5 of each procedure: Brows, Eyeliner, and Lips for your license.
These procedures must be supervised by a SofTap Trainer. You can find a list of certified SofTap Trainers Here:
SofTap Trainers provide two days of practice exercises before beginning work on live models. This counts as 16 hours of training. Once completed, you will work together to complete five of each procedure. This will complete 45-60 hours of practical training.
Please note that an apprenticeship is a separate cost of $4500 and completion times will vary depending on your availability and the availability of your trainer and live models.